Established in Roatan in 2015 after moving from Texas where they also ran dive charters and taught Scuba Diving under the name – Bottom Time Scuba. Jay and Lavina Arlotta Jeter made their dream come true and moved to a tropical climate to teach ALL year long and dive every day that we can! We are looking forward to taking you to see our beautiful reef on our boat Caribbean Dawn in West Bay Beach, Roatan, Bay Islands, Honduras.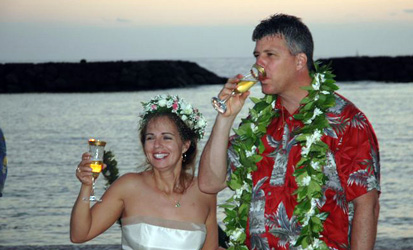 Jay is a US Coast Guard 25 Ton Master Licensed Captain and has owned and operated boats for over 25 years. Jay started diving in 1998 and became an Open Water Instructor in 2003 and a Master Instructor in 2010 with over 500 happy dive students. Before moving to West Bay Beach, Roatan, Jay taught for Scubaland Adventures for 12 years in wonderful, cold, dark, Lake Travis in Austin, Texas. It is the perfect place to overcome fear! Jay and Lavina also ran dive charters in the amazing Gulf of Mexico out of Corpus Christi and Port Aransas, Texas. The corals and marine life on the oil production platforms are amazing. Jay's favorite quote is "Diving in the Gulf of Mexico is like diving in a washing machine, diving in the Caribbean is like diving in a bathtub. Both can be lots of fun!"
Jay and Lavina now call the blue, calm, clear waters of the Caribbean Sea home in beautiful West Bay, Roatan. Jay loves teaching scuba diving and has a special talent for divers who are a little uneasy about life in the underwater world. Whether it be trouble clearing ears or mask or if you are just not quite sure about breathing underwater, or a fear of sharks. If you have the desire to overcome, Jay is the instructor to help you through it.
See our shows: *) Caribbean Life: Original Air Date January 25, 2015. **) Le Flow ***) ABC
Follow us on FaceBook, BottomTime Scuba – Jay Jeter, Lavina Arlotta Jeter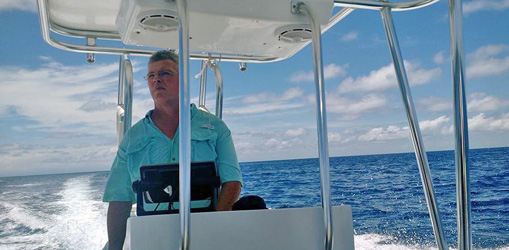 Lavina has been diving since 1985 when she was certified in college. She is 1st mate, galley wench, back up captain, dive master, chauffer and hostess extraordinaire. She takes the little kids and puts them at ease as she keeps them at arm's length. She is an excellent buddy for anyone with any kind of handicap, physical of mental. She will make your time aboard memorable. Give her a call and book your dives today! See you soon!! The boat is named after Lavina.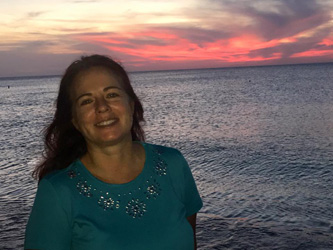 Caribbean Dawn is our 27 foot custom made dive boat perfectly suited for Caribbean diving. The boat was built on the island by Darcy Martinez Power Boats, Roatan's premier boat builder. The boat is powered by an environmentally friendly Yamaha 4 stroke 250 HP that will get us to the reef quickly, quietly and with no smelly 2 stroke fumes. The boat is equipped to all U.S. Coast Guard safety standards and equipped with oxygen unit and first aid kits specialized for diving operations. Caribbean Dawn also has a covered top for shade, a custom dive ladder for easy exit after dives, a VHF radio in case of any emergencies, GPS and a bottom sounder for navigation, stereo for music during our surface intervals, and a fresh water shower for rinsing. Caribbean Dawn makes diving very easy and enjoyable!
Caribbean Dawn is docked at a proper dock so no wading through the water to board. This also allows any customers that have a disability to board the boat very easily. Located at Foster's Dock on West Bay Beach.