Learning to Dive is Easy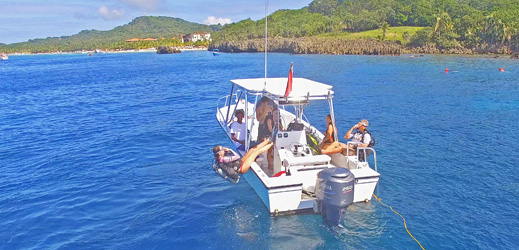 Learning to Dive is easy with PADI eLearning. Learn online, when and where you want. Complete the online portion of your course before you your visit Roatan or while relaxing on your vacation. Once the online portion is complete enjoy the underwater portion of your course on the beautiful Caribbean Reef with Bottom Time Scuba !

When choosing a dive instructor, experience matters. Not all instructors are equal. Jay is a PADI Master Instructor with over 20 years experience and over 500 happy certified divers. Lavina is a patient and caring Dive Master always ready to help with training. We offer all levels of training from Discover Scuba through Assistant Instructor and most specialties. We are exceptionally patient with any anxious or nervous students, children and those with handicaps. We are able to adjust the training pace and style to suit your individual needs to get you diving as confidently as possible. Learning to dive in the beautiful, warm Caribbean Sea is the best place to learn to dive! Come join us for all your PADI training needs.
Clink the Links below to sign up for PADI eLearning with Bottom Time Scuba !
Book your course with us today ! Please feel free to call us 512-779-6444 USA
Not quite sure about diving ? Let us help you give it a try with a Discover Scuba Dive. We will walk you through a few key skills in the safety of the pool then go dive in the calm, protected waters of West Bay Beach, Roatan. No Worries, We will be there with you every step of the way, Be Happy ! This is a great way to find out how much you love diving before investing in a full open water course.
Have you been away from diving for a while ? Do you need a refresher ? You can refresh your knowledge and skills with a Scuba Tune Up. Not sure you need a full tune up but just have a few questions and want to practice a few skills. We are happy to include that with your first dive.
Learning does not stop with your Open Water [OW] certification. Continue your education with Advanced Open Water, [AOW] Rescue Diver, Deep Diver, Wreck Diver, Photography, Night Diver or any other of the many Specialty Diver certifications. Extend your Bottom Time even further with an Enhanced Air Diver certification. Nitrox will allow your to spend 50% more bottom time on the Wrecks off the shore of Roatan. We also offer Emergency First Responder training for basic first aid and CPR.
Ready to live the dream ? Go Pro with your Divemaster certification! You can not beat the practical experience on the Caribbean's best reef the Meso-American Barrier reef; the second biggest barrier reef in the world.
We Offer these Specialty Courses
Peak Performance Buoyancy
Enriched Air, (Nitrox)
Deep Diver
Night Diver
Wreck Diver
Digital Underwater Photography
Underwater Navigator
Search & Recovery Diver
Boat Diver
Drift Diver
Self Reliant Diver (Solo Diver)
Sidemount Diver
Equipment Specialist
Dry Suit Diver
Altitude Diver
AWARE Coral Reef Conservation Sp Instructor
Project Aware Instructor